IP65 Waterproof 410-415 and 420-425 MHz BDA Long Range Tetra/DMR/UHF 16CH Channel Selective Repeater (BDA)
Product Detail
Product Tags
Kingtone JIMTOM® Wireless Channel Selective Bi-direction Amplifier are cost effective and reliable solutions designed to extend and improve the coverage area of Tetra BTS. Especially for where the radio environment is complex and interference is strong area. The wireless channel selective BDA amplifies and select wanted carriers in both directions, uplink and downlink. With its FPGA based high performance channel selective digital filter, high linearity and efficient PAs, robust operating and maintenance system, the BDA is a powerful and economic solution to enhance the BTS coverage area. Typical application scenarios of this BDA: tunnels, buildings, subways, and outdoor scenarios such as stadiums, rural areas and dense urban areas.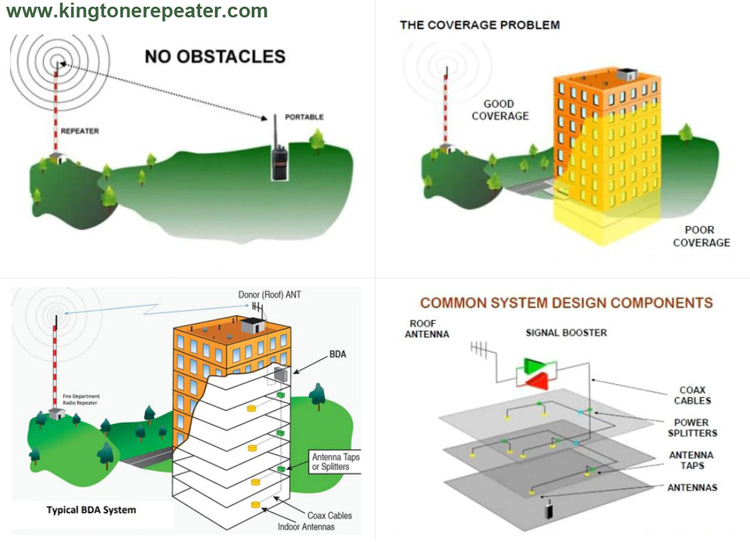 With high selectivity character, Channel Selective Repeater provides superior out-of-channel suppression to avoid interfering with adjacent channels.
It can be applied to the urban RF environment where suffered from interference caused by complicated donor signals.
The Channel Selective Repeater is also an ideal solution for rural area.
The Channel Selective Repeater is suitable for the network with base-band hopping or synthesizer hopping less than 16 channels.
410-415MHz for Uplink (radios to repeaters) and 420-425MHz for Downlink (repeaters to radios)
Tetra Repeater Manufacturer-Kingtone produce qualified Tetra repeater and support OEM and customized designs. Before ordering,please tell us the TX and RX .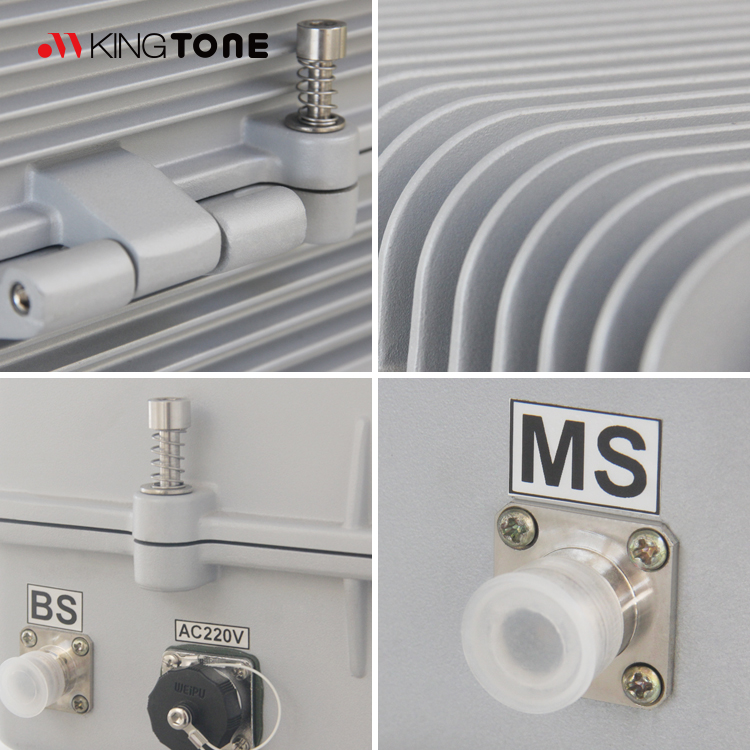 Technical Specifications
Items

Uplink

Downlink

 Working Frequency range

410-415MHz

420-425MHz

 Channel Bandwidth

Channel Selective (30KHz BW)

 Max Channel Number

16

Channel Adjust Step

12.5KHz

Downlink to Uplink space, min

10 MHz, factory adjustable

Max. Input Level (Non-Destructive)

10dBm

Max. Output Power

+30dBm

+33dBm

Max. Gain

85dB

85dB

Passband ripple

+/- 2.0 dB

Gain Adjustment Range

1~31dB @ step of 1dB

Auto Level Control (ALC)

>30dB

VSWR

≤ 1.5

Noise Figure @Max Gain

≤ 5dB

Phase P-P Error

≤ 20

RMS Phase Error

≤ 5

 

Spurious Emission

Within working band

≤ -22dBm/30kHz

Out of working band

9kHz~1GHz:≤ -36dBm/30kHz 1GHz: ≤ -30dBm/30kHz

 Inter-modulation

Within working band

≤ -45dBc/30kHz

≤ -45dBc/30kHz

Out of working band

9kHz~1GHz:≤-36dBm/30kHz 1GHz~12.75GHz: ≤ -36dBm/30kHz

 

 

Group Delay

Band selective 5MHz BW, 3.5µS

Channel Selective 90KHz, 14µS

Channel Selective 45KHz, 23µS

Channel Selective 30KHz, 32µS

Channel Selective 12.5KHz, 55µS

I/O Impedance

50Ω

RF Connector

N-Type (Female) / changeable / bottom of casing

 Uplink Squelch Function

Yes, user tunable, to avoid UL noise when no carriers present, by time slot and by channel

Self-Diagnostic Platform

Microprocessor based

 Local management and  

 supervising

Local access via Ethernet

 Remote management and  

 supervising

Remote access via Ethernet or wireless modem, option KT-RC2G

RoHS Compliance

YES

Temperature Range

-13º to 131º F • -25º to +55º C

Relative Humidity Range

≤ 95% (noncondensing)

 Power Supply (customizable)

230V 50/60Hz

 Backup Power Supply (optional)

4 hours

Cooling

Natural convection

Housing

IP67 / NEMA4X

Mounting

Wall or pole mounting

MTBF

50.000 hours

Dimensions

52*45*23cm

Weight

35kgs
---
Previous:
Kingtone JIMTOM® Customized Radio Frequency VHF Repeater VHF Bi-directional-Amplifier (BDA)
Next:
Critical Communication BDA Solution Uhf 400 mhz Walkie Talkie Outdoor Signal Extender Repeater Power Amplifier
---