Kingtone Factory Repeater OEM 850 1900 MHz Dual Band B2 B5 2G 3G 4G Cellular Signal Repeaters Long Distance Cell Phone Signal Booster 3-5KM
Product Detail
Product Tags
China Kingtone B2+B5 signal amplifier 4g dual band 850/1900 gsm pcs 2g 3g solar power repeater 5W,10W,20W cdma pcs cellphone signal booster is designed to solve problems of wak mobile signal, which is much cheaper than adding a new base station (BTS).Main operation of the repeaters are to receive lower-power signal from BTS via RF transmission and then transmit the amplified signal to the areas where network coverage is inadequate.And the mobile signal is also amplified and transmitted to the BTS via the opposite direction.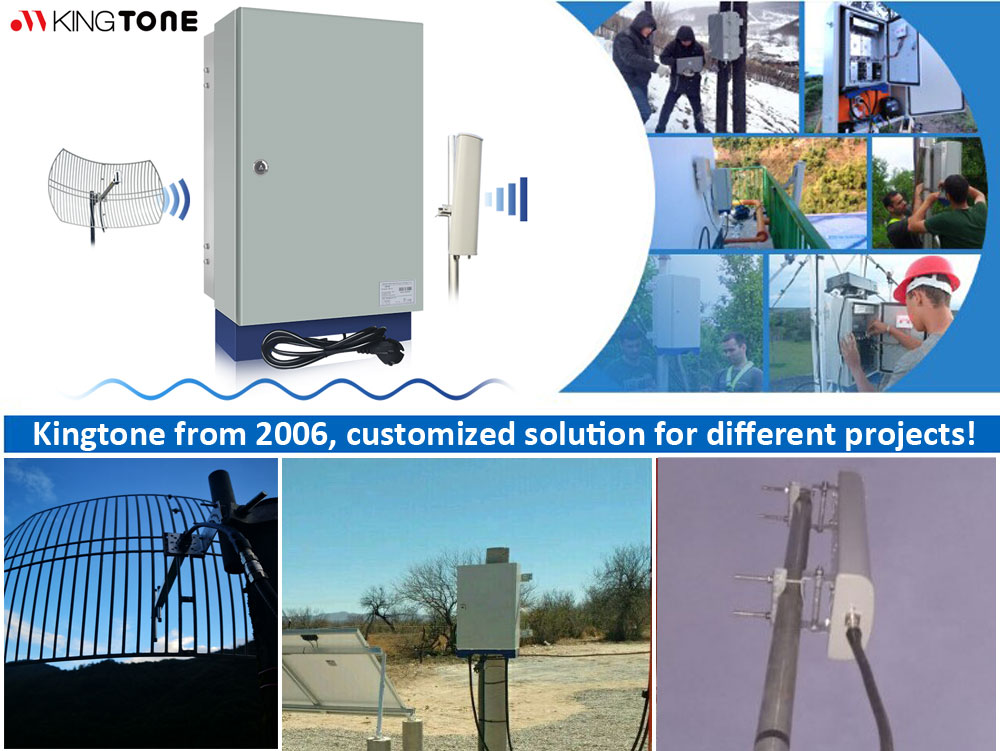 Apple system: call : *3001#12345#* ,signal strength will show on the top left corner.
Samsung system : call : *#0011#
Or you can download "LTE Discovery " app to check .
Put your phone there to check its signal strengthness outside:
Android : setting→about phone→status→network ,dbm display shall be at -75dbm to -85dbm around ;
Dual-band Customized Frequencies for your reference, choose 2-bands:
B1 (2100) is Band 1 on 2100 MHz.
B2 (1900) is Band 2 on 1900 MHz.
B3 (1800) is Band 3 on 1800 MHz.
B4 (AWS) is band 4 on AWS 1700/2100MHz.
B5 (850) is band 5 on 850 MHz.
B7 (2600) is Band 7 on 2600 MHz.
B8 (900) is Band 8 on 900 MHz.
B20 (800) is Band20 on 800MHz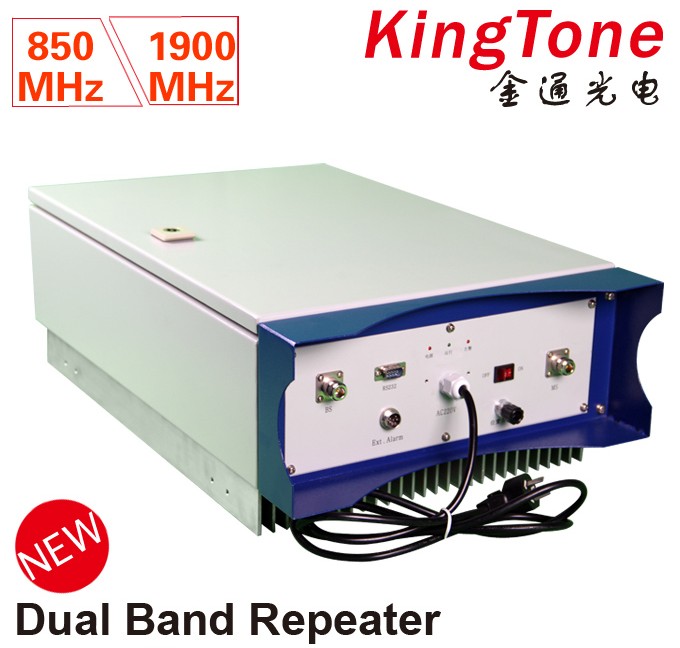 Technical Specification:
Item
B2+B5 signal amplifier 4g dual band 850/1900 gsm pcs 2g 3g solar power repeater 5W,10W,20W cdma pcs cellphone signal booster
 Frequency Range
 Uplink
 824-849MHz  / 1850-1910MHz
 Downlink
 869-894MHz  / 1930-1990MHz
 Output

Power

 Uplink
 +33dBm
 Downlink
 +40dBm
 Working Bandwidth
 Various bandwidth is available upon request
 Gain
 Min. 90dB
 Gain Control Range
 31dB (1dB Step)
 VSWR
 < 1.5
 Ripple in Band
 Max +/- 1.5dB
 Spurious

Emissions

 9KHz-1GHz
 Max -36dBm
 1GHz-12.75GHz
 Max -30dBm
 ACPR
 ≤-45dBc
 ≤-55dBc
 RF Connector
 N-type Female
 I/O Impedance
 50 ohm
 Noise Figure
 Max 5dB
 Group Time Delay
 Max 5µS
 Temperature Range
 -25 degree Celsius to +55 degree Celsius
 Relative Humidity
 Max 95%
 MTBF
 Min. 100000 hrs
 Power Supply
 DC -48V / AC220V (+/-15%), 50Hz
 UPS Backup Power Supply (Optional)
 6 hours / 8 hours
 Power Consumption
 Max 250W
 NMS Monitor Function
 Real-time alarm for Door Status, Temperature, Power Supply, VSWR,

Output Power, Gain, Uplink ATT, Downlink ATT and etc.

 Remote Control Module (Optional)
 RS232 or RJ45 + Wireless Modem + Chargeable Li-ion Battery
---
Previous:
1km Single Band Cellular Phone Repeater 5watt 37dBm Amplificador 700MHz 4G Lte Signal Booster Repeater Band 28 Cell Phone Booster
Next:
1-2W AGC MGC ALC Mobile Network B2 B5 B28 2G 3G 4G Celular Repetidor 700/850/1900MHz Cell Phone Signal Booster for South American
---