Kingtone Outdoor Cell Phone Extender 5km Range Cell Signal Repeater 850 Mhz Mobile Network Band 5 Signal Booster 2G 3G 4G
Product Detail
Product Tags
Kingtone Outdoor Cell Phone Extender 5km Range Cell Signal Repeater 850 Mhz Mobile Network Band 5 Signal Booster 2G 3G 4G
Kingtone Mobile Network Coverage Signal Booster Gsm 3G 4G 850MHz Gsm Signal Repeater Booster Amplifier is designed to solve problems of weak mobile signal, which is much cheaper than adding a new base station (BTS).Main operation of the repeaters are to receive lower-power signal from BTS via RF transmission and then transmit the amplified signal to the areas where network coverage is inadequate.And the mobile signal is also amplified and transmitted to the BTS via the opposite direction.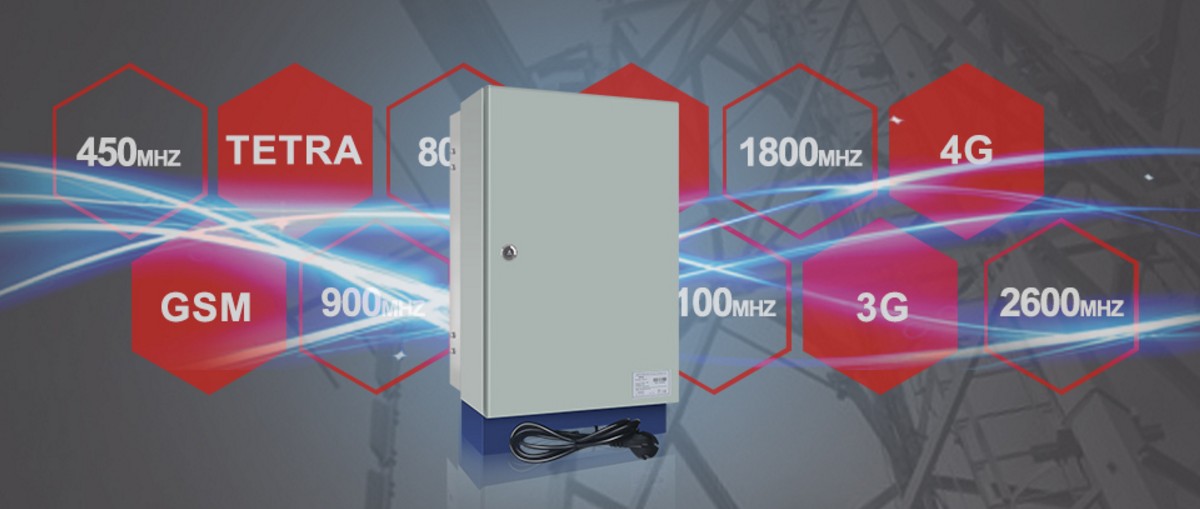 Features:
1,Output Power +30dBm - +43dBm for large coverage application;
2,High working gain as Min. 95dB;
3,Adopting filter with highly selectivity and low insertion loss eliminates interference between uplink and downlink;
4,RS232 ports provide links to laptop for local setting and monitoring by built-in web interface;
5,Built-in wireless modem (Option) for remote monitoring by SMS or GPRS;
6,Details repeater parameters and status can be monitoring by Control Panel, such as temperature, output power level, gain, ATT, return loss, VSWR etc;
7,Support upgrading firmware remotely by GPRS;
8,High gain linear power amplifier technique with reliable performance;
9,Compact size and light weight, easy to install on wall or pole;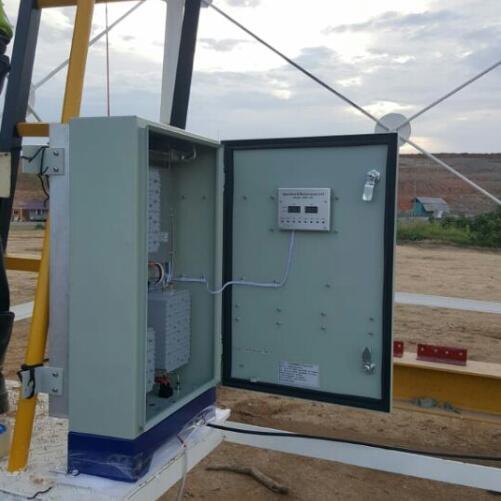 Typical Application:
Kingtone Outdoor Mobile Network Coverage Signal Booster Gsm 3G 4G 850MHz Gsm Signal Repeater Booster Amplifier to expand signal coverage of fill signal blind area where signal is weak or unavailable.
Outdoor: Airports, Tourism Regions, Golf Courses, Tunnels, Factories, Mining Districts, Villages etc.
Indoor: Hotels, Exhibition Centers, Basements, Shopping Malls, Offices, Packing Lots etc.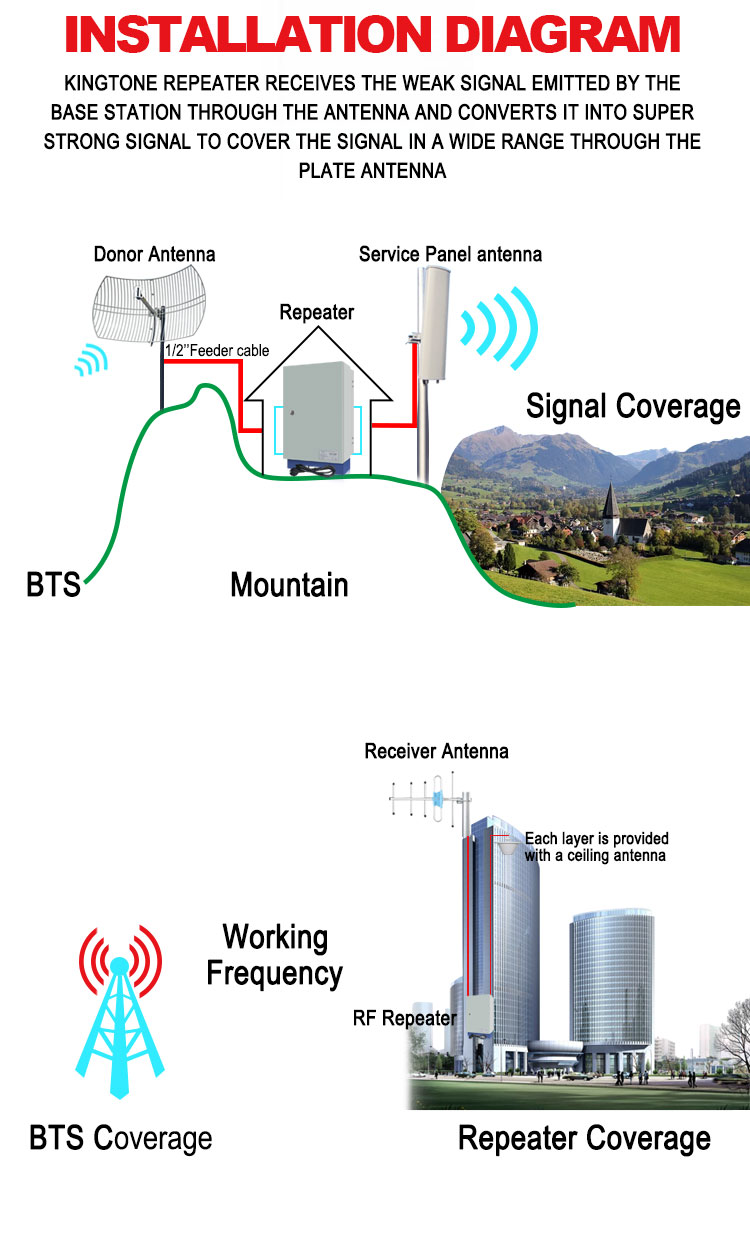 Standard Package
1) Kingtone Mobile Network Coverage Signal Booster Gsm 3G 4G 850MHz Gsm Signal Repeater Booster Amplifier (AC power cord EU standard/ US standard/ UK standard) 1PC
2) Installation kit 1PC
3) User manual 1PC
Recommended Accessories
1) Donor antenna: Outdoor Panel Antenna ( 12dBi, 824-960Mhz )
2) Service antenna: Omni Ceiling Antenna ( 3dBi,824-960MHz)
3) 1/2" RF cable with connecter ( Cable length optional)
4) Splitter, coupler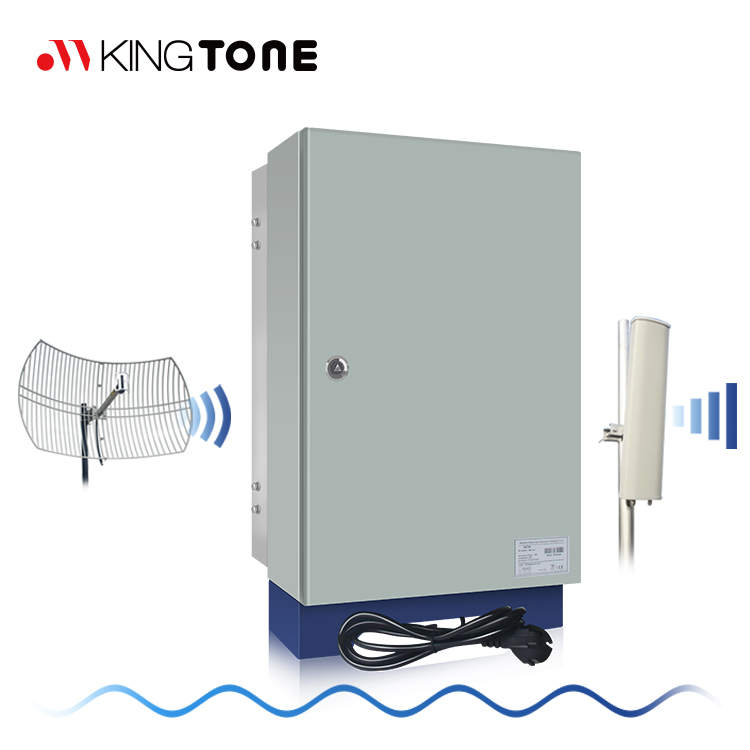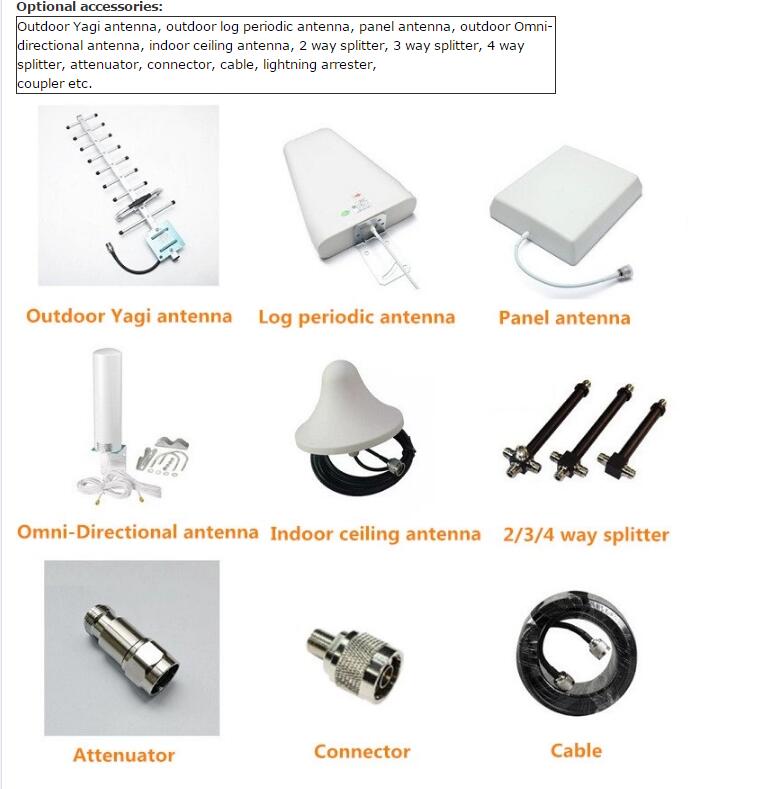 Technical Specification:
Item
Mobile Network Coverage Signal Booster Gsm 3G 4G 850MHz Gsm Signal Repeater Booster Amplifier
 Frequency Range
 Uplink

824-849MHz

 Downlink

869-894MHz

 Output

 Power

 Uplink

 +33dBm

 Downlink

 +40dBm

 Working Bandwidth

 Various bandwidth is available upon request

 Gain

 Min. 90dB

 Gain Control Range

 31dB (1dB Step)

 VSWR

 < 1.5

 Ripple in Band

 Max +/- 1.5dB

 Spurious

 Emissions

 9KHz-1GHz

 Max -36dBm

 1GHz-12.75GHz

 Max -30dBm

 ACPR

 ≤-45dBc

 ≤-55dBc

 RF Connector

 N-type Female

 I/O Impedance

 50 ohm

 Noise Figure

 Max 5dB

 Group Time Delay

 Max 5µS

 Temperature Range

 -25 degree Celsius to +55 degree Celsius

 Relative Humidity

 Max 95%

 MTBF

 Min. 100000 hrs

 Power Supply

 DC -48V / AC220V (+/-15%), 50Hz

 UPS Backup Power Supply (Optional)

 6 hours / 8 hours

 Power Consumption

 Max 250W

 NMS Monitor Function

 Real-time alarm for Door Status, Temperature, Power Supply, VSWR, 

 Output Power, Gain, Uplink ATT, Downlink ATT and etc.

 Remote Control Module (Optional)

 RS232 or RJ45 + Wireless Modem + Chargeable Li-ion Battery
Why Choose Kingtone?
Since 2006, Kingtone has been developing and manufacturing Repeaters included CDMA Repeater, GSM Repeater,DCS Repeater, PCS Repeater, UMTS(W-CDMA) Repeater, Tetra Repeater, iDEN Repeater, Wimax Repeater and 4G LTE Repeater etc. Moreover, Kingtone Repeater have different types included Full Band-selective Repeater, Channel-selective Repeater, Frequency-shifting Repeater, Fiber-optical Repeater, Trunk-amplifier etc. The repeaters can be Single-band Repeater, Dual-band Repeater and Tri-band Repeater etc. The Multiple Bands for different Mobile Operators.
As well as the repeater, the passive circuits such as Power Splitters, Directinal Couplers, POI, Connectors, Antennas etc. are in operation.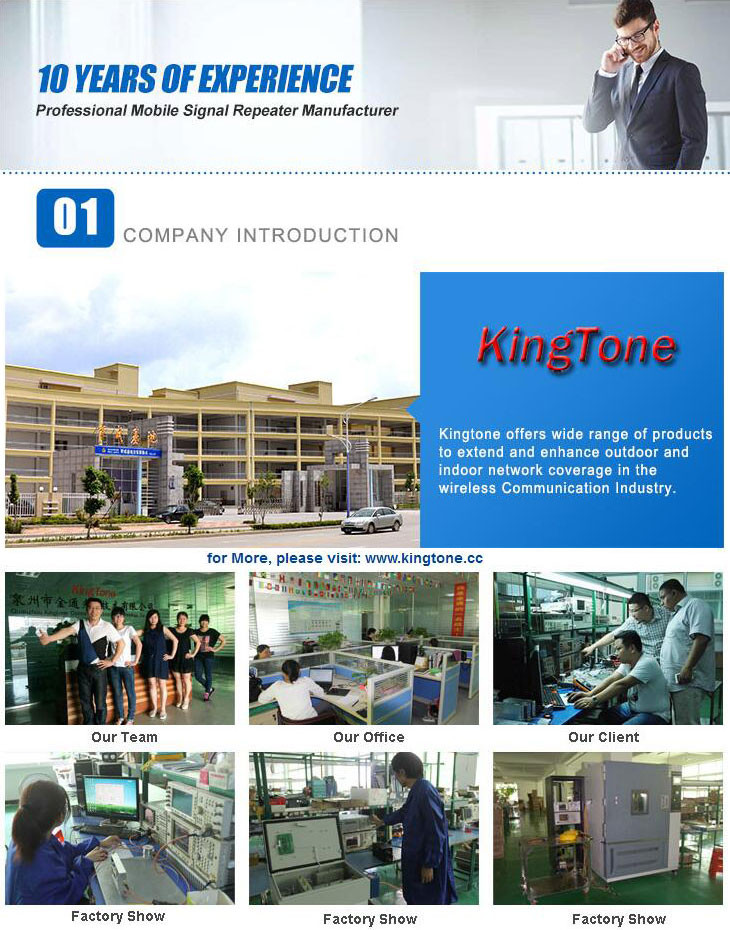 At Present, Kingtone exhibited the highest quality products and enterprise's comprehensive strength. And Kingtone continues to strengthen technological innovation on repeater products and will launch the new products on the market soon.
With your supports and new requirements which can make us improve our service, innovative our technology and consummate the products.
OEM & ODM are welcome!
---
---
Previous:
China Gold Supplier for China Wireless RF Repeater GSM900 LTE1800 WCDMA2100 2g 3G 4G Cell Phone Booster Triband Mobile Signal Amplifier
Next:
Waterproof High Gain 824-960MHz Outdoor Antenna Directional LTE WCDMA CDMA GSM Parabolic Grid Antenna for long distance
---